Not many people can lift a car, let alone flip it with their bare hands! But Sunshine Coast's Kurt Southam can, and he is about to put his incredible strength to the ultimate test in front of thousands at the Strongman World Championships in Columbus, Ohio next month.
Kurt is one of Australia's best Strongman athletes, named Queensland's Strongest Man under 90 kilograms in 2013 and placing second in Australia last year. He has dedicated his life and diet to maintaining his super-human strength, consuming almost a carton of eggs a day and training six days a week. When summing up his sport Kurt says, "The physical benefit is being strong enough to flip a car over. The mental benefit is the confidence of knowing you can actually flip a goddam car!"
IFA: Can you define a Strongman?
KURT: To me, a Strongman is someone who tries to defy what strong really is. There isn't a real structure to what we lift as it could be anything; pulling cars, flipping 300-plus kilogram tyres, lifting atlas stones, carrying oil drums and beer kegs, throwing unusual objects.
IFA: How long have you been taking part in this sort of training? What got you interested in it?
KURT: I got into strongman 2 years ago. Coming from a CrossFit background I was always stronger than the typical CrossFit athlete, so I went into a Strongman comp for fun, got beaten because I wasn't strong enough and said to myself, "This is where I belong" and I haven't looked back.
IFA: How often do you train? What kind of training do you do? Is it always in a gym or outside as well?
KURT: Training is 5 to 6 days per week depending on training cycles. About 80% of my training is at Plus Fitness, Minyama, which is the gym I work at, and the rest is events training at a mate's gym in Mooloolah Valley, where we have logs, atlas stones, tyres, farmers handles, yolks and beer kegs up to 100kg.
IFA: What is your diet like?
KURT: I eat clean at a 90/10 ratio. Most of the week I'm very clean, then I have a 3 hour window during the week where I can eat whatever I like. As an under 80kg competitor, for me to maintain my strength and body composition, I eat roughly 3000 to 3200 calories a day of 350 carbohydrates, 210 protein and 95 fat. I eat lots of brown rice, kangaroo meat, oats, 9 eggs a day and supplements.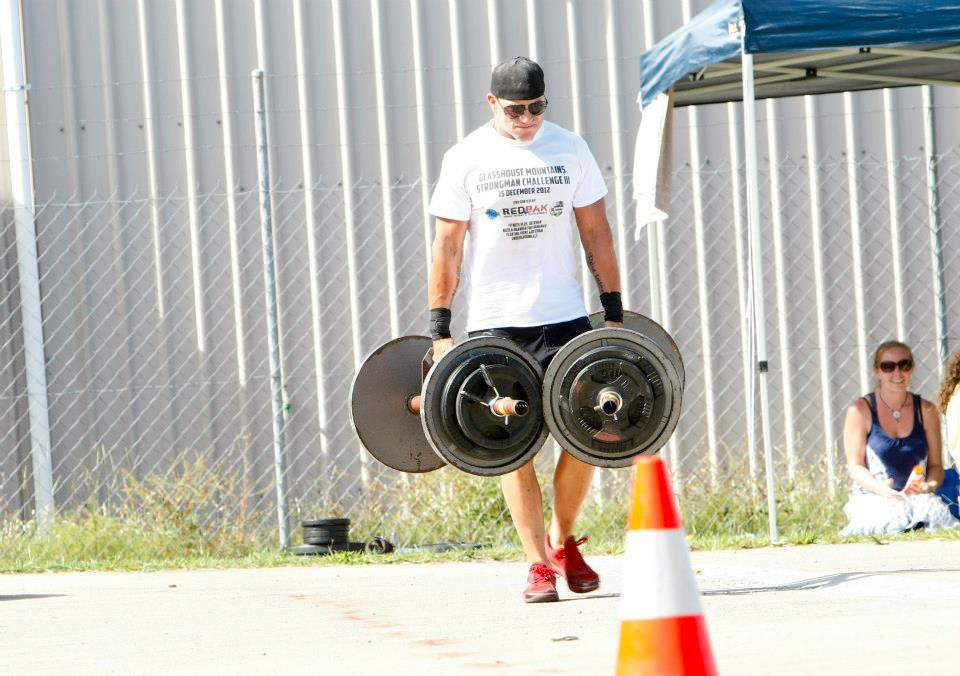 IFA: Tell us about the World Championships? What is the competition going to be like?
KURT:  I'm getting ready for the Strongman World Championships, which is being run at the Arnold Classic in Columbus Ohio next month (March). The competition will be fierce and will feature champion strongmen and world record holders from various countries in the under-80kilogram category.
IFA: How many have you participated in the past? What are your greatest achievements?
KURT: I've started to lose track of how many comps I've been in, but there are some that stick in your head, the major ones. In 2013, I was Queensland's Strongest Man under 90kilogram, I came third in Australia from under-80 kilogram in 2013 and second in Australia last year (2014).
IFA: Are there certain muscle groups that you train more than others?
KURT: There are no major muscle group I train more than others, I squat twice a week, train back and dead-lift twice a week and overhead press twice a week, plus events training on top of this.
IFA: Is it mentally difficult?
KURT: When you're under 80 kilogram and you have to put 300 kilograms on your back and walk for 25 metres the mental battles that happen in your mind can either break you or make you.
A friend of mine who runs Queensland Strongman once said, "Most people look at the weights and think I won't do this comp because it's too heavy, except for Kurt. He'll see he weights and get strong enough to lift them".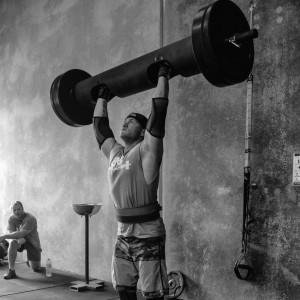 IFA: How is Strongman different from Body Building?
KURT: There's an old saying, "bodybuilders train to look strong, we train to be strong". I've met and competed against some very strong body builders, but I'm not good looking enough to be a bodybuilder. Plus I love my food!
IFA: What are the physical and mental benefits of this sort of training?
KURT: The physical benefits are being strong enough to flip a car over. The mental benefits are the confidence of knowing you can actually flip a goddam car!
February 2014 – Kate Davies