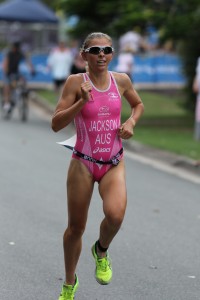 Olympian, World Champion and Commonwealth Games medallist are three words often used when summing up Emma Jackson.
The Queensland Triathlete has represented her country at countless competitions around the world since joining the Australian Elite team for World Championships at the age of 16, making her mark at both Olympic and Commonwealth Games levels ever since.
The pocket rocket is admired for her determination and gutsy race style, although admits she still has a few fears when it comes to race day. IFA sits down with the 2016 Olympic hopeful to find out what makes a champion.
IFA: When did you start out in triathlons?
Emma: My first triathlon was when I was about 13 years old. I hadn't really practiced any swimming or bike training before the race as I was just giving it a go and was relying on my running. I didn't start training for triathlon until I met Stephen Moss when I was about 14, and have continued on training with him ever since.
IFA: What do you love most about the sport?
Emma: I love the opportunities the sport has given me and that I get to travel the world training and racing while doing what I love.
IFA: Tell me about training regime?
Emma: I training 7 days a week and about 2 to 4 times each day. It depends on what time of the year it is to what each individual session is like. For example, in the off-season we focus more on aerobic work so we do a lot of kilometres in all disciplines, plus gym work. However, when we get closer to racing we implement more speed work, which tends to make the sessions a bit shorter.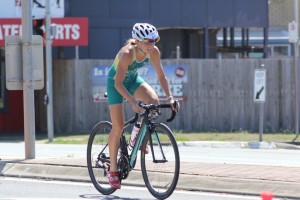 IFA: Is there an aspect of the sport your find to be more challenging than others?
Emma: Cycling, because of the skills and confidence needed to ride within a pack. I have always done swimming and running so cycling has always been the most unfamiliar to me. I knew how to ride a bike from a young age but riding in large groups and having to deal with crashes while training and racing is what I have found to be the most difficult to adapt to.
IFA: What is your diet like? What is it like before a race?
Emma: Even though I do so much training, I still have to eat a healthy and maintain a balanced diet to ensure I am ready to race when the time comes. Every now and again I treat myself, but like most people I have to do this in moderation. Pre-race I always like to have Spaghetti Bolognese for dinner as this is a tradition I've always had. No matter where I am in the world I can find this meal, but I have to say I still haven't found one better then my Mum's. On race day I also have the same meal every time – toast and strawberry jam – this is something my stomach seems to be able to handle during a race as there is nothing worse than feeling sick or having a stomach ache whilst racing.
IFA: Do you participate in any other sports? Do you have any hobbies?
Emma: The only other sports I really participate in are swimming, running or cycling events, which really aren't too much different to what I actually do, so I would probably say no!  In my spare time I enjoy what most athletes do, sleeping! But I also enjoy reading, shopping, relaxing and completing my university degree.
IFA: What do you love most about being a professional athlete?
Emma: Probably the fact that I get to do my sport as a job. I love being able to say that triathlon is my job and I hope I can continue on saying that for quite a few more years.
IFA: What is your greatest achievement so far?
Emma: Representing Australia at the London Olympics Games would have to be my proudest moment in the sport so far. I finished eighth, which at the time was a good achievement for me as I was so young. Also being crowned U23 World Champion and claiming a bronze medal at the 2014 Commonwealth Games would round out my top 3 achievements.
IFA: What is next for you?
Emma: Currently, I am training for the 2015 World Triathlon Series, which starts in March and also for our 2016 Rio Olympic Selection race later this year. I would love to represent Australia at another Olympic Games so the main goal is to gain automatic selection from my results at the test event this year.
IFA: What advice would you give others starting out in the sport?
Emma: Practice your transitions! A lot of time can be won (and lost) in transitions so it's important to practice them and be the most efficient you possibly can. Plus the main and most important thing is to always have fun and enjoy yourself.
Kate Davies – January 2015