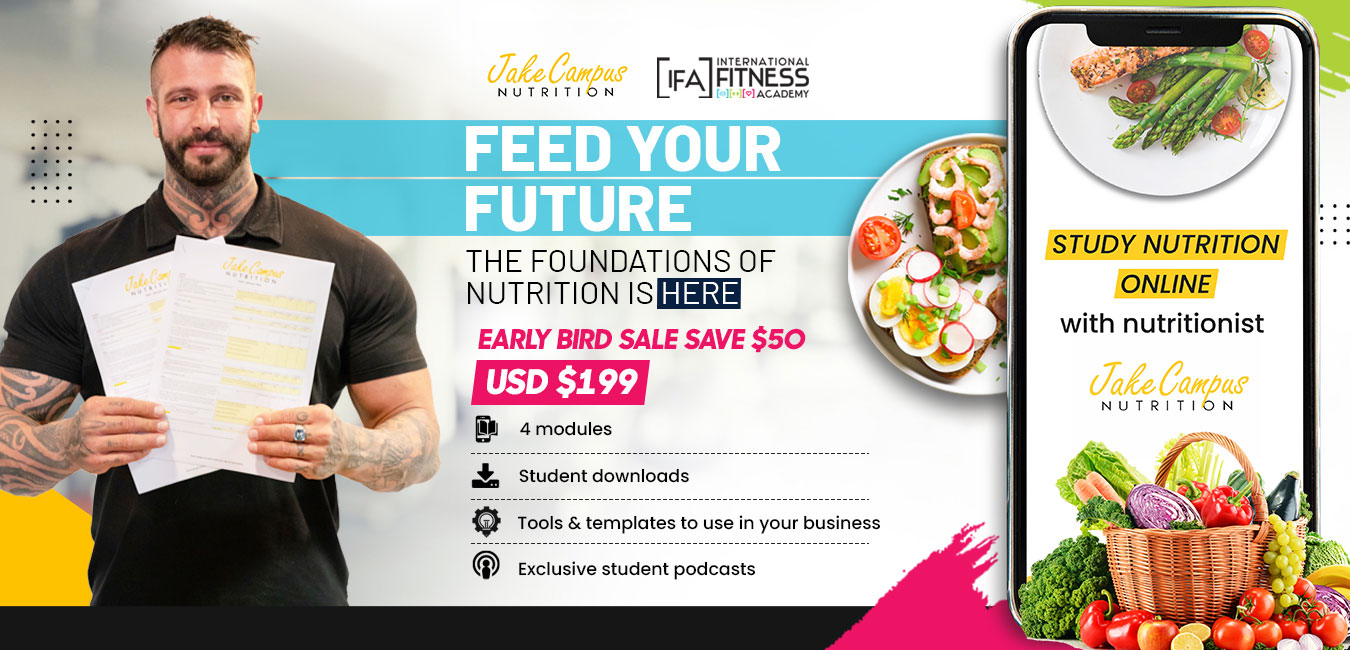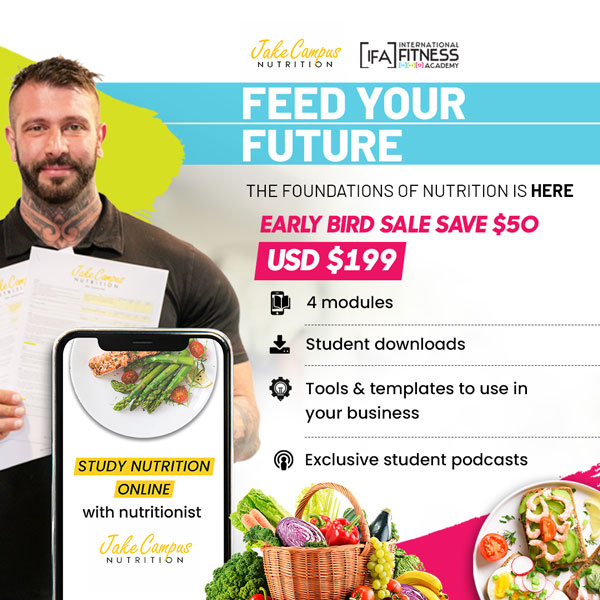 FUEL PERFORMANCE WITH CONFIDENCE
DIGESTIBLE NUTRITION EDUCATION FOR COACHES & PERSONAL TRAINERS
Jake Campus Nutrition have coached 10,000 lifestyle clients and performance athletes to achieving a sustainable result with their nutrition coaching methods.
NEW: Now you can learn the Foundations of Nutrition with Jake Campus and the International Fitness Academy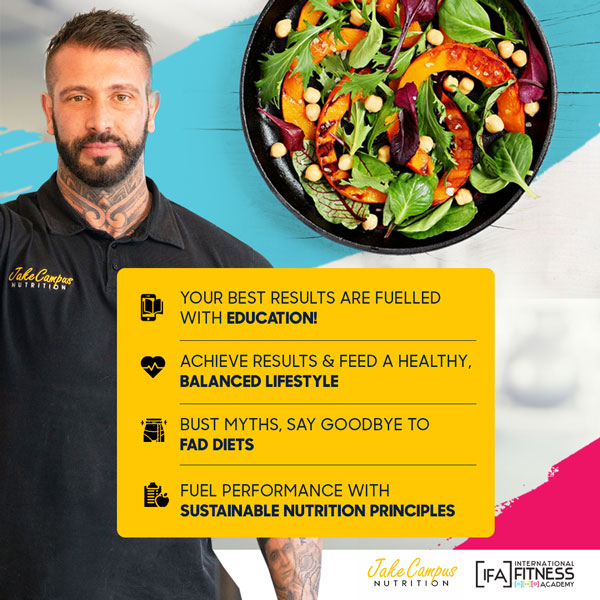 WHAT YOU WILL BE ABLE TO DO WITH THIS COURSE
Helping you help others! Achieve greater results with your clients as you pass on 'easy to digest' nutritional information, educating them on their journey to a sustainable transformation!
Understand fad diets & "nutritional systems"
Coach your clients with a balanced approach
Make it a lifestyle!
Bust popular and common myths with science and evidence based information
Transform your coaching business
Be supported every step of the way!
The Foundations of Nutrition has been created for Personal Trainers and Coaches globally who seek to further their understanding of coaching their clients to success through healthy & balanced eating.
This course is intended to be 'easy to digest' for coaches as you gain a profound understanding of how to achieve a result using a balanced and flexible approach to food.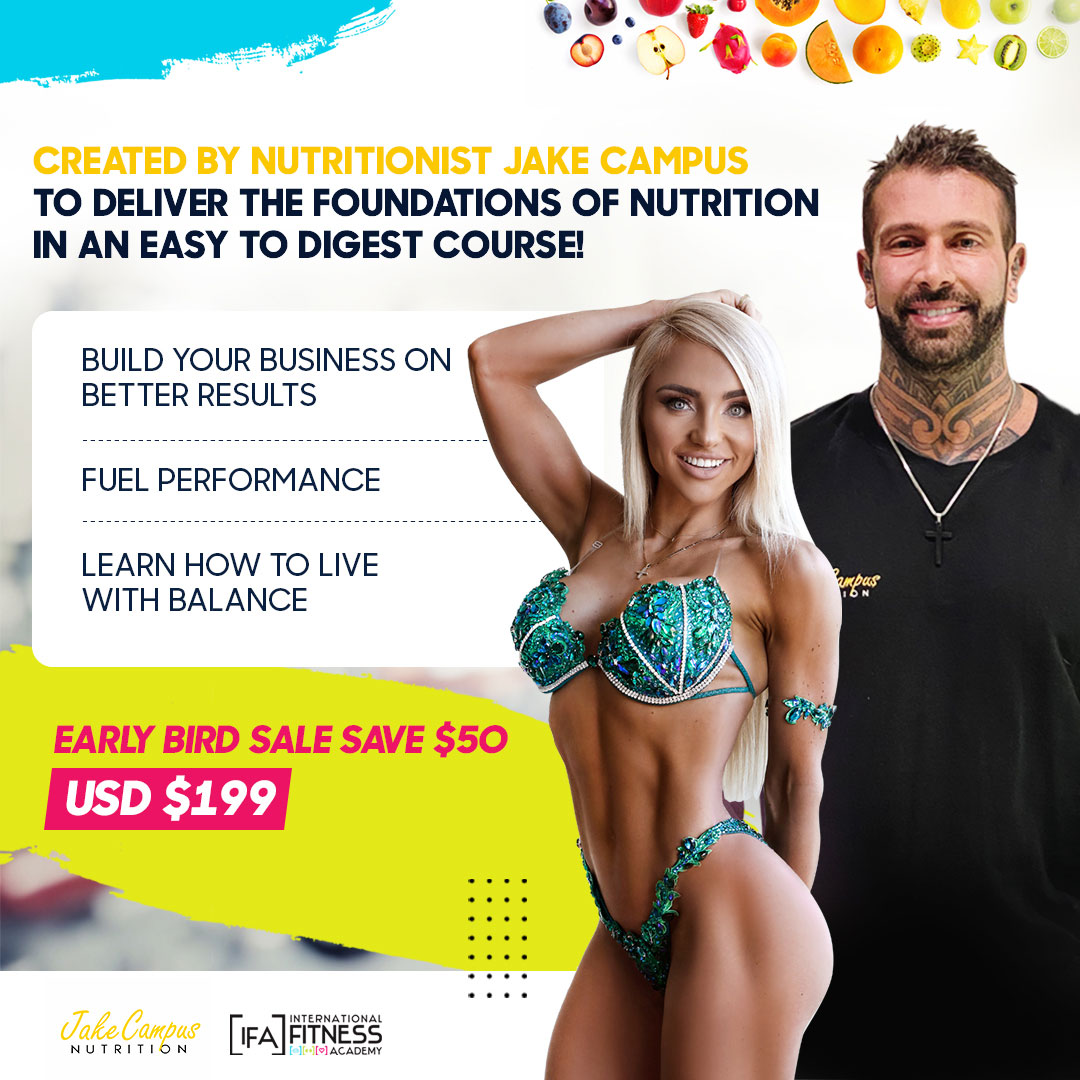 COURSE OVERVIEW
FAD DIETS EXPLAINED
Keto
Paleo
Low carb high fat
Carnivore
Intermittent fasting
Cleansing
Raw foods
Wholefoods
Veganism for fat loss
IIFYM
COACHING A BALANCED DIETS
Finding balance
The pre-screening process
Coaching balanced nutrition
Understanding energy balance
Macronutrients
"Good" & "Bad" foods
Hydration
Calculating calories & macros
MYTH BUSTING
Popular nutrition myths busted
Science explained
Understanding HOW & WHY so that you can be a better coach for your clients
BUSINESS DESIGN
Building a stronger business through nutrition coaching
Jake's tips for success
Client transformations
User generated content
Recording & understanding data
STUDENT SUPPORT
Podcasts
Student case studies
Student downloads
Jake's summaries for every module
Tools & templates for your business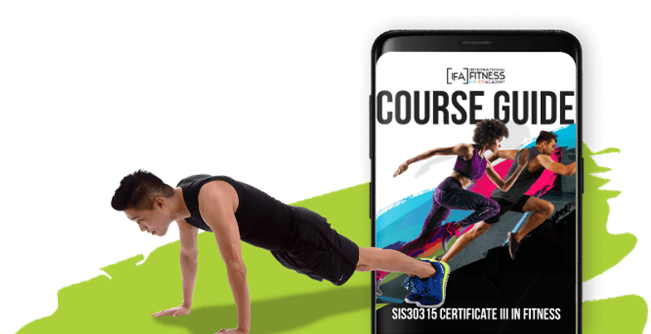 TEST THE PLATFORM OUT WITH OUR
FREE DEMO COURSE
Try out the demo course!
See what the best online platform can offer you!