These days, being fit and strong is more than just working out a few times a week — it's about passion and dedication to pursue a dream body and career. 
Nobody knows this better than Lauren Simpson, who with her incredible Instagram following of more than 103,000 has joined International Fitness Academy to become a qualified personal trainer.
Lauren's notorious obliques are the envy of her followers, but it's her inspiration motivation that has more and more people seeking her posts for support — especially women.
IFA caught up with the bubbly blonde to find out how her fitness dream came to be.
Has being fit and strong always been a passion of yours?
Lauren: I have always led a very active lifestyle and played sports such as netball and touch football competitively growing up. I've been someone who has always had a gym membership but not until about two years ago did I become truly passionate about health and fitness, and decided to dedicate more time to getting fit and strong.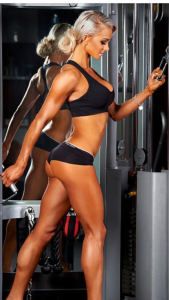 How long have you been competing as a fitness model?
Lauren: My first fitness competition was INBA Southern Cross Championships in April 2015, where I won Fitness Model Overall Champion. I also competed at the INBA Sydney Super bodies show in May 2015.
I became more aware of fitness competitions through social media and was in absolute awe of the bodies of the girls up on stage. To me, they represented months of hard work, dedication and commitment. It also looked fun and the girls were so glamorous in their sparkly bikinis. After a year of indecisiveness I finally worked up the confidence and decided to commit to the challenge and see what my body could do! I did my research for a reputable coach, which led me to start prepping with Clean Health Performance Centre.
Your currently studying with IFA, how are you finding the course and when will people be able to begin training with you?
Lauren: I am currently studying my Certificate 3 & 4 online with IFA and am finding it very interesting so far. Online learning is convenient for people like me who work full-time and the IFA system is very user friendly.
Study for this course doesn't ever seem like a hassle as I am genuinely interested in what we are learning and I really value education. I am hoping to be taking on clients of my own by the end of the year! The prospect of this is so exciting for me and I'm already beginning business planning!
What do you find most appealing about the fitness industry?
Lauren: The fitness industry is constantly evolving so I am really looking forward to becoming more involved in this and the direction it is headed. A career in the fitness industry offers me an opportunity to help clients reach their goals and lead a longer, healthier, happier life — be able to wake up each day to a job that I am passionate about and to potentially run my own business!
Who and what inspires you to train every day and stick to your exercise regime??
Lauren: There are fitness girls I completely admire such as Paige Hathaway and Michelle Lewin, however my main source of motivation comes from within. I am very self-motivated and I find that it is my desire to succeed and continuously improve that drives my motivation. I have small goals and I have big goals, but each day I am motivated to work my butt off to be one step closer to achieving them. I also have quite a large following on social media and it is the continuous support and kind words from people who are interested in what I'm doing and motivated by me on a daily basis that really inspires me to keep going.
Nutrition plays an integral part of any exercise regime, what tips do you have for those trying to figure out this side of health and fitness?
 Lauren: A lot of people really struggle with nutrition and it is the reason why there are so many fad diets around. A proper nutritional program combined with exercise regime is essential to achieve desired results. Food is fuel and it is important to nourish our bodies.
Eating well isn't hard and certainly not as complex as many people make it out to be these days. I no longer view my eating as though I am in a 'diet' – it's simply a change in lifestyle and maintainable for me year round. By eating fresh, unprocessed and nutrient rich foods it allows you to eat a lot of food without blowing out those calories! Following an 80/20 rule is a good approach to follow for anyone starting to take more control over their health and fitness goals! 80% of the time healthy eating and 20% of the time treating yourself (within reason!)
Everyone has different approaches to nutrition – clean eating, IIFYM, paleo, raw til 4 etc, however it's all about finding what works best and what can consistently be maintained for you or your client.
Be sure to follow my Lauren's journey through her Instagram @laurensimpson